Lisa's Story
---
Lisa's Personal Story ~

You can read it below or

watch it

here!
I developed severe allergies and severe asthma at the age of 4, and it got progressively worse over the years. I couldn't keep up with the other kids in gym class as a child, and growing up, my family couldn't have a dog or cat.  I couldn't do sleep overs at friends' homes if they had animals, or I'd be calling my mom to come and pick me up in the middle of the night. Thank God we were able to buy and keep a small bird.
Many nights I ended up in the hospital emergency room, sometimes three times in one night! Oh, what my mother endured with me.  One time on a Girl Scout camping trip, I had an asthma attack in the middle of the night and I almost died. I didn't want to tell anyone, so I just suffered, cried and prayed the whole entire night ~ a night I will never forget as long as I live.
Anyway, you get the gist of it ~ my childhood was rough and my body took a toll because of the asthma, allergies, medications and steroids my body had to have, just to survive.
Then… I developed acne in my 20′s
If that weren't bad enough, in my early 20's, I developed mild to moderate acne on my face. I couldn't figure out what was causing it, and it bothered me for years. 15 years to be exact! I used acne creams, lotions and potions. You name it ~ I used it to try to clear my skin. Nothing worked. Then I resorted to antibiotics and it would help temporarily, but then I'd be right back where I'd started, only worse off ~ even though I didn't know it yet.  Find out  here how I cleared my acne and find out how you can clear your's too! 

Then… digestive problems in my late 20′s into my 30′s
Additionally, from all the medication over the years, as well as the toxins in the processed foods and sugary drinks I had ingested over the years, I also suffered digestive issues and bloating. My stomach would hurt all the time.  It got so bad that even if I ate an apple, my stomach would hurt and get bloated!  I knew this was not normal.  After implementing this cleanse WITH probiotics, this did the trick!  I also have great success in working with clients with digestive issues such as IBS, colitis and ulcerative colitis.
All the while….. I was an emotional mess!
In addition to my own health issues, I struggled with my own emotional issues having grown up without a father in my life. I was angry, needy, co-dependent, fearful AND depressed.  I hit rock bottom.  I surrendered from doing things my way, and I asked God to help me.  HE did.  I had to make a decision and take the first step.  That's what you also must do.
I wanted to clear my skin and be healthy.  I wanted to be healthy emotionally so I could have right relationships.  I found out that both only truly come from having a right relationship with God.  Yes, it's true.  I can help you in the area of your emotions through the Word of God (that is, what God says in His Word — the Bible).
While I was getting healthy physically and emotionally, I saw and still see people around the world suffering with their health and emotions, and this brings me to where I am now and why I am SO PASSIONATE about helping YOU become healthy!  After resolving my own issues, the Lord burned a passion in me to help others get healthy ~ physically, emotionally AND spiritually.
Are YOU in Need of Help?  If so…
I am here to tell you that you CAN change your present situation! You do NOT  have to be stuck with no alternatives. You have a choice, just like I did. God gave you and me a choice ~ He told us to choose life. Don't put yourself off any longer.  Decide to take charge of your health and your life TODAY!  Contact me today and I will help you.
Connect with Lisa
Watch Interviews
Watch Lisa's TV Interview with Carman on TBN's "Praise the Lord."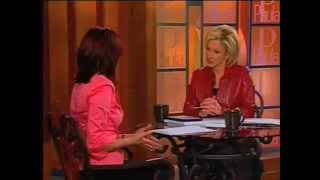 Watch Highlights – Lisa's TV Interview on "Paula Today" with Pastor Paula White See Lisa's Interview on "Atlanta Live"
Watch Lisa's TV Interview with Carman on TBN's "Praise the Lord."

Lisa shares her personal testimony on marriage, divorce, the occult, depression, weight loss tips and more!

Watch Highlights – Lisa's TV Interview on "Paula Today" with Pastor Paula White

Lisa Buldo and Paula White discuss weight loss, acne and digestive issues.

See Lisa's Interview on "Atlanta Live"

See Lisa's Interview on "Atlanta Live," where she discusses "Healthy and Victorious Living, including Healthy Nutrition Tips!