Invite Lisa
---
Invite Lisa to Speak at Your Next Event
Passionate in all she does, Lisa speaks from the heart on healthy nutrition and and victorious living. She also teaches and preaches the Word of God with fire and passion, and the Lord JESUS is present to heal every time.

Invite Lisa to speak at your next event by contacting us here.
Be sure to include a contact name and telephone number, as well as an email address. We will contact you within 24 hours. Please note that we will not respond to any email without a contact name and phone number. If this request pertains to speaking outside of USA, please be specific as to location.  Thank you.
What Others Say About Lisa...
"Lisa is a highly regarded nutrition expert and an anointed speaker.  Your ministry, group or organization will be truly blessed to have Lisa as a speaker. Lisa's approach is different, in that she teaches Nutrition and the Biblical truths of God's Word for health in a very practical, easy to understand, way. After hearing Lisa speak, you will be truly inspired, and you will know how to turn your health around immediately!" ~  Pastor Frank Bolella, Living Word Community Church, Dumont, New Jersey

"Lisa Buldo is a truly dynamic speaker gifted by God to teach nutrition from a Biblical aspect, relying on the Word of God.  She spoke to our Diabetes Support Ministry and the information she provided was extremely helpful to our group. She holds nothing back when she speaks, and you can see that she is truly motivated by her desire for her audience to be healthy, not only in body, but in mind and in spirit as well! Thank you so much, Lisa.  On behalf of our group ~ we welcome you back any time! ~ Dr. Marc Sommer, Lincoln Park, New Jersey

"Lisa Buldo is not only well versed in scripture and an expert in nutrition, Lisa has God's anointing on her life! The UBC Family has been enlightened and inspired through Lisa's "in your face" approach to wholeness and a Godly lifestyle. Thank you, Lisa, for caring about people, and welcome into the UBC Family!" ~ Pastor James Holcomb, Unity Baptist Church, Orange, New Jersey

"My husband and I want you to know how much we appreciated you this weekend.  We were blessed by your presence and your wealth of knowledge in nutrition. So blessed that we feel like you are our new friend and sister (there is a connection). We have met a lot of people in this walk with Christ, and we are careful as to who we embrace.  As you continue to go forward and inform God's people on how to better take care of their vessels, I know God will take your ministry further than you ever dreamed.  You have no idea how you have changed my life.  I'm more conscious about what I put in my mouth.  I'm looking at labels and sharing with others the importance of eating healthier. We love you and are praying you through.  Be blessed my sister!" ~ Pastors Shane L. Bryant and Shirelle Bryant, Kingdom Servants Christian Assembly, Locust Grove, GA

"I first heard Lisa Buldo speak at the "Life After Divorce Women's Conference" in Georgia last month, and she touched the heart of everyone that was present!  Not only did she speak regarding "Getting Healthy God's Way," but she has a prophetic anointing on her life, and she came with a Word from God that touched every person, including every Pastor that was there.  After seeing and hearing Lisa speak, I asked her to come and speak to my church in Harrisburg, PA.  Lisa graciously accepted and came to speak at Kingdom Embassy this past weekend. We were truly blessed!  People have been talking about all the things you shared.  The people loved you, Lisa.  But that is not hard to do!  I so appreciate God for bringing you into my life.  I am serious about getting totally healthy and helping my congregation and community as well. Thank you, Lisa, for your compassion and love for God's people.  May the Lord continue to bless you richly in all you do!"  ~ Apostle Brenda Alton, Senior Pastor of Kingdom Embassy, Harrisburg, PA

Hello my name is Minister Terri Green, and this past September, Lisa Buldo was a guest speaker at our Women's Conference ministering to women who are going through, or have gone through separation and or divorce. We were mightily blessed as Lisa brought forth an awesome word on God's plan for our health and our healing. We were so blessed and are excited to begin our journey to a healthy lifestyle and living an abundant long life, by using the biblical principles Lisa taught us through the Word of God. Lisa is a powerful and anointed speaker whose love for God's Word and His people shows in her passion and diligence as a biblical health coach and speaker. You will be blessed to have Lisa at one of your events! ~ Minister Terri Green, Atlanta, GA
Connect with Lisa
Watch Interviews
Watch Lisa's TV Interview with Carman on TBN's "Praise the Lord."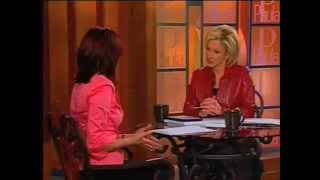 Watch Highlights – Lisa's TV Interview on "Paula Today" with Pastor Paula White See Lisa's Interview on "Atlanta Live"
Watch Lisa's TV Interview with Carman on TBN's "Praise the Lord."

Lisa shares her personal testimony on marriage, divorce, the occult, depression, weight loss tips and more!

Watch Highlights – Lisa's TV Interview on "Paula Today" with Pastor Paula White

Lisa Buldo and Paula White discuss weight loss, acne and digestive issues.

See Lisa's Interview on "Atlanta Live"

See Lisa's Interview on "Atlanta Live," where she discusses "Healthy and Victorious Living, including Healthy Nutrition Tips!