Book Reviews
---
Continued Book Reviews:
"I couldn't agree more and with the media being over saturated with so much doom and gloom and possible terrorism, a crashing economy, it's nearly impossible to not be stressed out these days. I recently picked up a book called: It Can Be Done! You Can Live In Victory 24/7 By Lisa Buldo, it's all about spiritual wellness and health, and it is really an amazing book. I recommend it highly to pregnant women or anyone looking to live a more positive happy life. Blessings to you all ~ Grace Wells 
"I was an emotional mess for such a long time. I have with two children with special needs and Type I Diabetes. My physical health has suffered due to the stress and constant negative thinking. I also found myself speaking negative words all the time because that is what I was thinking. Within a few days after reading 'IT CAN BE DONE!', I started to feel a real change within myself. I started to change my thoughts and I started speaking differently, creating real change within myself that I have not known before. On top of that, Chapter 5 is all about getting healthy, losing weight, and staying fit for life. I have found myself starting to implement what I have learned, and I feel so much better. This book is a must have for EVERYONE! This is book is amazing, and Lisa really gives you the step by step on not only what to do, but how to change your life immediately. I highly recommend this book! Thank you, Lisa!" ~ Kathie Babich, Boonton, NJ USA
"I've read Lisa Buldo's book, 'IT CAN BE DONE!' and I was very encouraged! Her book is very easy to follow. So many times I've read different books on these various subjects and they were so confusing. I've learned to put God first, then everything seems easier. I've also followed the nutrition part of this book, as I had many health issues, and I've lost 34 pounds in only three months! Truly, I feel better each day!" ~Kathleen Alkema, East Stroudsburg, PA, USA
"Lisa, I simply love your book! I have been reading it alongside the Bible. Your book keeps me on track and I find the Bible a fascinating book to read. (I never did before). I would like to thank you so much for coming into my life and helping me to reconnect with God, Jesus and the Holy Spirit. Things are getting clearer every day. Your book is clearly and simply written with the exact steps of how to implement God's Word into our lives to truly live in victory. I highly recommend Lisa's book to anyone who wants to know how to reconnect with God. Thank you so much for this wonderful book!" ~ Maylin Lue Pann, CANADA
"After having known Lisa for some, if not most of those early years described in the book, I can testify to her transformation. It is no wonder that this book is called 'IT CAN BE DONE! ~ You Can Live in Victory 24/7.' To all who will read and apply, you will respond with a triumphant shout-YES WE CAN!! I especially love the chapters on Angel assistance and how God will keep surprising You. I thank God Lisa for our reuniting through Him. To the best biblical holistic health coach who applies the principles right from this book, I say, YOU haven't seen anything yet! To all those who have an opportunity to purchase this book for you or for someone else, don't hesitate! This is a life-changing, thought provoking, easy written, piece of transformation!" ~ Angeline Dean, Mt. Laurel, NJ, USA
"I love Lisa Buldo's book 'It Can Be Done!' The book can relate to everyone's life and everyone's daily struggles with money, health, stress, and relationships. Sometimes life gets really tough and believing in yourself and the work of God can really make a difference. By focusing your thoughts, your thoughts will become reality. The health section of her book was my personal favorite. I thought I was eating pretty healthy to find out little changes in my diet can make a huge difference in my energy and body.  If you follow Lisa's words and believe, you too can live victoriously!" ~ Adam Holbrook, www.smartwatersolutionsonline.com, Hamburg, NJ USA
"I highly recommend reading Lisa Buldo's book, 'It CAN Be Done!' You CAN Live In Victory 24/7." Since opening my heart to God about 3 years ago, I have read alot of books in addtion to the Bible to know God better. I have also read some self help books to try to improve myself. Well, this is a great combination of the two. Lisa is funny, practical, and her personal story makes it easy to relate to and put into practice what you learn in this book. I especailly loved her frequent use of Biblical verses that really spoke to my heart. This book is especially easy to understand. Her love for God and strong faith are an inspiration. I am also fortunate to say I know Lisa personally and can say it is no act. She is the real thing! I believe God is using her to do great things. So do yourself a favor, read this book, and buy one for a friend who needs God in their life. You will be blessed!" ~Heidi Hayes, Bergenfield, NJ, USA
 "Some good information here. Having worked in daycare for several years and having very picky grandchildren-I am convinced good eating habits must be started at birth! The Sneaky Chef sounds wonderful, because let's face it, we have to get those veggies in, no matter how. Fun food is also a good idea and sometimes they will try a few things. I have trouble getting myself to always eat wisely. Recently found a very helpful book on nutrition on http://www.lisabuldo.com, "It Can Be Done!" wwwSuite101.com
 Click Here to Get Your Copy Today
Connect with Lisa
Watch Interviews
Watch Lisa's TV Interview with Carman on TBN's "Praise the Lord."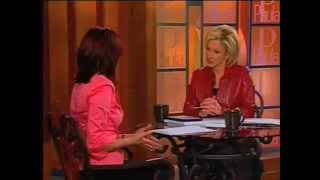 Watch Highlights – Lisa's TV Interview on "Paula Today" with Pastor Paula White See Lisa's Interview on "Atlanta Live"
Watch Lisa's TV Interview with Carman on TBN's "Praise the Lord."

Lisa shares her personal testimony on marriage, divorce, the occult, depression, weight loss tips and more!

Watch Highlights – Lisa's TV Interview on "Paula Today" with Pastor Paula White

Lisa Buldo and Paula White discuss weight loss, acne and digestive issues.

See Lisa's Interview on "Atlanta Live"

See Lisa's Interview on "Atlanta Live," where she discusses "Healthy and Victorious Living, including Healthy Nutrition Tips!