Lisa's Book
---
It Can Be Done!
You Can Live in Victory 24/7
In this book you will discover:
*  The #1 Secret to Living the Good Life
*  How to Stop Living in Yesterday
*  The Power of Words to Create Your Future
*  How to Master Your Emotions
*  How to Get Fit and Stay Fit for Life
*  How to Make Money Doing What You Love
*  The Best Investment You Will Ever Make
Summary
This book is about taking you from where you are in your life right now to where you want to be.  No matter what you have been through, there is hope for you!  Get ready to be inspired as you learn the #1 secret to living the good life and the best investment you will EVER make!  In this life-changing book, Lisa Buldo shares from her own personal life experiences and shows you how easily you can transform your life very quickly, no matter who you are, or where you've been.
 Acclaim for It Can Be Done!
Lisa Buldo's book, 'It CAN Be Done! You CAN Live in Victory 24/7,' is a powerful resource for understanding how God's power works within you to transform every area of your life, from your health to your finances.  Lisa's writing is honest and refreshing, and the humor, wit, and candor she brings to her subject makes the 'deep things of God' accessible. This book will inspire you to seek to know Him more intimately, and to cooperate with His process of perfection in your own life!" ~ PASTOR PAULA WHITE
Book Reviews:
"There's dynamite packed between the covers of Lisa Buldo's new book It Can Be Done!  This victory coach delivers when it comes to showing you how to create a healthy, happy life. She covers more ground in one book than other authors do in three books. Lisa has produced a comprehensive life guide, which will help you avoid the potholes of life and steer you on the road to true happiness. If you're stuck on the side of the road trying to get your life back on track, this book is a MUST!" ~Brenda Watson, College Station, Texas
"I must tell you I am reading your book and THOROUGHLY enjoying it. I'm not kidding. I wasn't sure what to expect and God is so funny. I'm talking about His timing. I know all this, but I have had to lay down some forgiveness issues in my life. I believe God has put you in my life for a reason and a perfect timing as He walks me through some areas so that I can help turn someone else's life around. I love Him so much and I am so thankful for His faithfulness and patience with us. Thank you again for obeying Him to write this book. It is honestly a book that goes through everything to walk in victory. I will use this book as one of my resources to share and give away as a seed to sow in others lives." ~ Roberta Thomas, Reno, Nevada
"Thank you so much for your book, 'It CAN Be Done! You Can Live I Victory 24/7.' The book was so easy to read and understand, I couldn't put it down. Even my husband enjoyed it, and commented that your book really does live up to it's name. He's right, it does! God spoke to me through your book and reminded me that what I speak will be my reality. I realized I had been speaking wrong about a certain issue in my life. Since then, I've corrected my attitude and how I speak, and I've already seen positive results, Praise Jesus!! Thank You, Father, for Lisa and the anointing You've put on her life to share this information with the world!" ~ Juan and Jennifer Casiano, North Bergen, NJ, USA
"Lisa Buldo's, It Can Be Done!, is a contribution to the mind, body and soul. She delivers practical advice to put your life on track to health and happiness through God's Word and way. It is absolutely the perfect tool to getting the life you want no matter what you are experiencing now, if you are willing to accept Jesus in your heart and live your purpose. Prayers and biblical scriptures are delightfully sprinkled throughout the book and give you a clear picture of the truth and guidance needed in any situation. Clearly, Lisa's book is God-ordained and should be on your bed-side night stand and on the shelf of every pastor's bookshelf." ~ Maggie Keenan, ED.D., Virginia
Connect with Lisa
Watch Interviews
Watch Lisa's TV Interview with Carman on TBN's "Praise the Lord."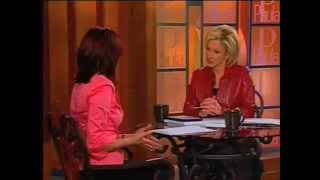 Watch Highlights – Lisa's TV Interview on "Paula Today" with Pastor Paula White See Lisa's Interview on "Atlanta Live"
Watch Lisa's TV Interview with Carman on TBN's "Praise the Lord."

Lisa shares her personal testimony on marriage, divorce, the occult, depression, weight loss tips and more!

Watch Highlights – Lisa's TV Interview on "Paula Today" with Pastor Paula White

Lisa Buldo and Paula White discuss weight loss, acne and digestive issues.

See Lisa's Interview on "Atlanta Live"

See Lisa's Interview on "Atlanta Live," where she discusses "Healthy and Victorious Living, including Healthy Nutrition Tips!