Breakthrough Session with Lisa
---
Break Free from Everything Holding You Back
(fear, anxiety, depression, health issues, etc…) and
Break Through to Victorious Living Now!
*  Do you struggle with defeating thoughts?
*  Are emotions sabotaging your relationships?
*  Do you feel stress, anxiety or fear frequently?
*  Do you have health challenges or concerns?
*  Do you wonder what your purpose is?
*  Need clarity around next steps to take?
If you answered YES to any of the above questions, you are a candidate for a private "Breakthrough Session."
My Story…
I can help you because I've been through all of this too! I was in a physically and emotionally abusive relationship for five years, went through an abortion, had a baby out of wedlock, had a miscarriage, went through divorce, struggled with depression, a poverty mindset, anger issues and health challenges of asthma, allergies, acne and digestion issues. On top of all of that, I was addicted to psychics and thought I could die.
Oh yeah… it was bad… real bad. Then one day, after trying EVERYTHING else, I dropped to my knees and asked God to help me. I told Him I was sorry and I was tired of doing things my way. I asked Him to teach me His ways. Jesus' came in and cleaned up the mess that I was. It was a process, but I tell you the truth, to be where I am today, I am glad all of this happened. It wasn't fun, but it was necessary.
Now I help multitudes… and I want to help you.
God now uses me as His vessel to help people all over the world to overcome and live victorious lives. I am ordained as a minister of healing and as a marketplace prophet. I am called to heal and restore emotional, physical and spiritual health, as well as to prophetically release destiny into the lives of young people, and to people in the area of business (marketplace). The LORD has called me to bring light into the dark places, and help the multitudes to live in victory.
You can expect to get a breakthrough in the area you most desire it. It's called a "Breakthrough Session" because of the "Breaker's Anointing" on my life to BREAK darkness, whether in emotions, addictions, sickness… all of it!
My coaching style is unique and extremely effective, as I incorporate Biblical Principles from the Bible (the Word of God) in all of my teaching, coaching and speaking. You'll leave this Breakthrough Session feeling uplifted and encouraged, having a clear sense of what to do next.
How we work together…
I'm known for my no-nonsense approach to victorious living. At the same time I'm super caring and committed to seeing you get results.  This is why I choose to work only with you who are ready for change, ready to make an investment in yourself, and desire to get a "breakthrough"… in whatever area YOU need a breakthrough.
During our time together, I will ask questions and give recommendations, as well any prophetic words as the LORD reveals. We'll have fun together, and if you're open to what God's Word says, there's no doubt that you'll receive the Breakthrough you desire.
I'm now offering a limited number of Private "Breakthrough Sessions" per month via the Internet on a platform called Zoom. It provides a much better connection that Skype, and we'll see each other face to face! 🙂 You can even use your smartphone!
Prior to Your Breakthrough Session: During the checkout process, you will fill out a form in as much detail as you'd like. I will spend additional time reviewing your form prior to Your Breakthrough Session. This will enable us to get right to the heart of your breakthrough during the Session.
In Your Private 50-Minute Private Breakthrough Session with Lisa, this is what you can expect: 
Get Breakthrough in the area where you need it most (health, relationships, business).
Break free from fear, anxiety, depression, sickness, addictions, all of it!
Know how to hear and obey the Holy Spirit for YOUR life.
Find out how to use your God-given authority now and forever against the enemy.
Discover your God-given purpose and destiny!
Gain clarity on what your next steps should be!
Note: This Breakthrough Session will be tailored around what YOU desire breakthrough for.  You may request additional breakthrough sessions, but be prepared to receive breakthrough in THIS session!
50-Minute Online Private Breakthrough Session
(Plus Pre-Session Form Review by Lisa for total of 75 minutes)
One Payment:  $197  (Valued at $300)
Click here to book your Breakthrough Session now.
Once you choose your date for the appointment, you will be asked to fill out a short form. Please be sure to fill this form out in as much detail as you can in preparation for our time together. Once you submit the form, you will be able to make payment. You will then be sent a "Zoom" link that you simply click on at the date and time of your appointment. Be sure you have a camera either built in, or attached to your computer.
Expect to change your life. You can be sure of breakthrough if you are teachable, coachable, and follow my simple and clear recommendations. Expect to be inspired, uplifted and empowered all at the same time!
See this Testimonial from Claudia:
Hi Lisa,

I just want you to know, even though you probably already know, you were so right the other day.  I feel like a new person.  I didn't realize how I let that spirit of fear into my life.  It was 3 years ago this past March when that doctor told me I was going to die.  I look back now and see how that really affected me all this time.  I was just trying to survive.  And because I was feeling better it really didn't manifest until the other day when I was attacked physically in my body, and I was in so much pain.  I am free now and I feel so much better.  I'm following everything you told me to do.  I was writing everything you said down while you were instructing me and talking.  I know without a doubt I am healed!!  I've learned so much since talking to you.

You are so anointed by God, the Word of God just flows out of you with so much wisdom.  You help so many people, I thank God for you.  I pray God can use me someday to help those that are hurting like you do.  I can't express to you how wonderful I feel and how free I am. Thank you so much  for taking time out of your busy schedule for me, and God Bless."
~Claudia Simmons
I am offering a very limited amount of Breakthrough Sessions per month.  Grab your spot today before they're gone for this month. I look forward to getting to know you and see you aspire to ALL God has called you to be!
Click here to book your session now.
Love, Peace and Blessings, and I'll see you soon!




Legal Disclaimer, Refund and Rescheduling policy

:  (My lawyer made me do this.)
        **   Refund Policy: We have a no refund policy for Breakthrough Sessions. All sales final.
        **   Rescheduling Policy: We have a 12-hour rescheduling policy. If you cancel less than 12-hours from the time of your scheduled appointment, you will be charged for the appointment.  No exceptions.
        **  All prices in USD.
       **  During your Breakthrough Session with Lisa, she will give you recommendations based on the Word of God and what the LORD reveals to her prophetically. Lisa Buldo, individually and Lisa Buldo International, LLC  is in no way liable or responsible for words spoken or recommendations made, and what actions you choose to take as a result of this Breakthrough Session.  You are solely liable and responsible for your decisions about your life. If you agree to this, go ahead and book your Breakthrough Session with Lisa here. 
Connect with Lisa
Watch Interviews
Watch Lisa's TV Interview with Carman on TBN's "Praise the Lord."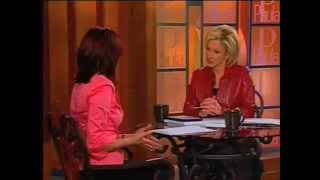 Watch Highlights – Lisa's TV Interview on "Paula Today" with Pastor Paula White See Lisa's Interview on "Atlanta Live"
Watch Lisa's TV Interview with Carman on TBN's "Praise the Lord."

Lisa shares her personal testimony on marriage, divorce, the occult, depression, weight loss tips and more!

Watch Highlights – Lisa's TV Interview on "Paula Today" with Pastor Paula White

Lisa Buldo and Paula White discuss weight loss, acne and digestive issues.

See Lisa's Interview on "Atlanta Live"

See Lisa's Interview on "Atlanta Live," where she discusses "Healthy and Victorious Living, including Healthy Nutrition Tips!